Virtual Event: 8-11 January 2024
We are no longer accepting Abstracts. However, you can still participate by Registering for the Conference or in the Art Exhibition & Contest!
The 7th International Sea Duck Conference (ISDC), 8-11 January 2024, will draw together sea duck enthusiasts from academia, government agencies, conservation organizations, industry, and communities to discuss our shared interests in sea duck research, conservation, management, and community connections.
The theme of the 7th ISDC is "Bridging Communities: Human Connections to Sea Ducks" and each day of the science program follows a general theme: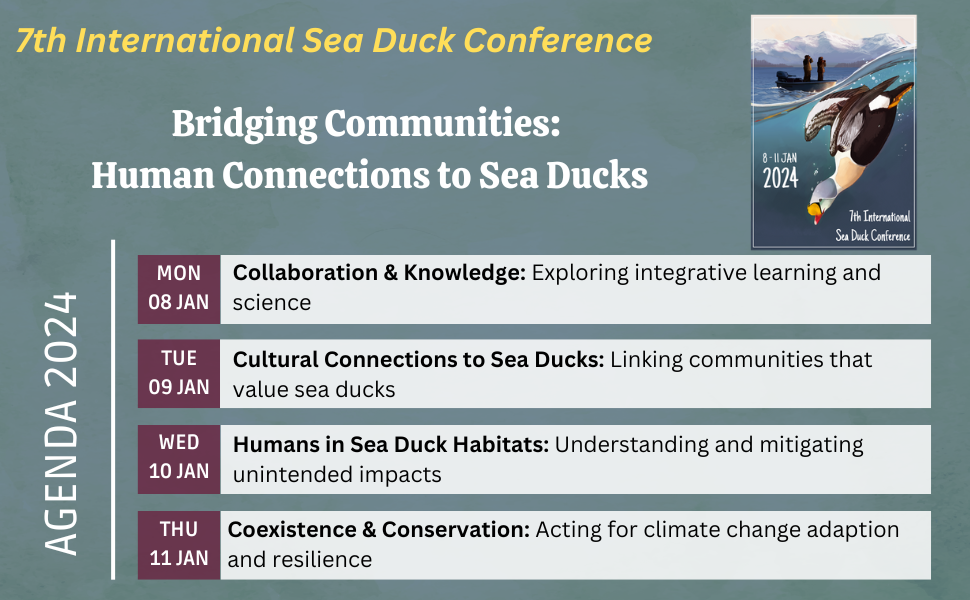 Contributed oral presentations on a wide range of contemporary topics including:
Adaptive Management
Alternative Energy Development
Annual Cycle
Breeding Ecology
Climate & Adaptation
Conservation & Management
Emerging Diseases & Contaminants
Foraging & Energetics
Harvest Management
Innovative Techniques for Sea Duck Studies
Indigenous Knowledge
Migration & Movement
Population Dynamics
Spatial Ecology
ORAL & LIGHTNING TALKS - PRESENTATION GUIDELINES
DEADLINE Submit Presentation Video: 23 December 2024
DROP DEAD DEADLINE: 3 January 2024
Preferably before that so we can troubleshoot any issues!
KEY INFORMATION
7th ISDC goes live on 8 January 2024 at 10:00 CST and all recordings will remain available to attendees through April 10, 2024 (90 days post event).
24-h access is available so you can join from any time zone, but recordings will only become available after the Live broadcast.
You must be Registered for the conference to login to the virtual venue to view available presentations, Poster Expo and Art Exhibition.
All Oral and Lightning presentations will be pre-recorded followed by live Q & A. Please be present during your presentation to answer questions.
ORAL & LIGHTNING PRESENTATION GUIDELINES
All oral and lightning presentations will be pre-recorded.
Oral Presentations are not to exceed 12 min.
Lightning Talks are not to exceed 5 min.
Click here for the 'Oral, Lightning Talk Guidelines_web.pdf'
Poster Expo Booth
On the virtual platform, Poster presenters can create an engaging, interactive, multi-media virtual booth in our Poster Exhibition Hall! Virtual booths are fully customizable and can be designed for a single presenter or a research group.
You can host your Poster as a traditional pdf, upload additional documents, white papers, photographs, video content, or create a short presentation. During the Live Poster Session, booths will have a Live Q & A, and you can also schedule one-on-one meetings with attendees and chat functions have video and audio capabilities. The possibilities are endless!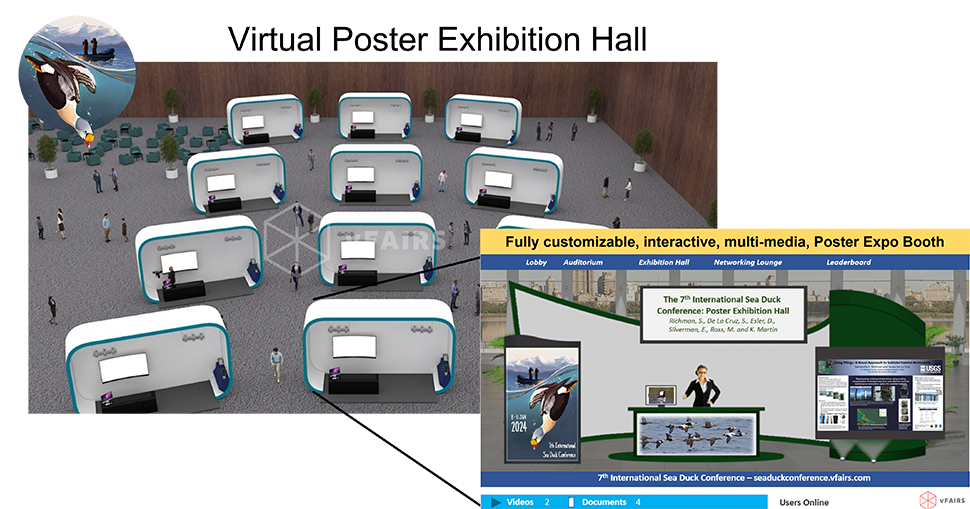 Visit https://seaduckconference.vfairs.com/ for additional information!
Questions: Please email us at seaduckconference@gmail.com
POSTER & ART VIRTUAL EXHIBITION BOOTH SET UP
Deadline Booth Set up (Submit to vFairs for review): 23 December 2023
Deadline for Final Review of Booth set-up: 3 January 2024
HOW WILL THE VIRTUAL POSTER EXHIBITION WORK?
All Poster or Art Exhibitors will receive an email from seaduckconference@getvfairs.io which will contain a Booth setup link (Bookmark this link to make changes later).
Follow the on-screen instructions & this guide.
Booth setup takes about 1 hour. You will be able to start, save, and return to finish the booth as well as make changes after it goes live.
Submit to vFairs for Review by 23 December 2023; you can still make changes at any time.
During the Live Virtual Conference 8-11 January 2024 – Exhibition Hall:
Poster Viewing (8 Jan) session to allow Attendees the opportunity to check out your booth! You are not required to be in your booth during the viewing, but you can be.
LIVE Poster Session & Art Exhibition (9 Jan). Please be present, in your virtual booth, to answer live questions in the Chat.
In the Exhibition Hall, attendees can search the Index or scroll left or right to find your Poster Booth.
Inside your booth, attendees can 'click' to view each your images that can be linked to open a larger image, documents, presentations, videos or to an external URL.
Meet with attendees via the chat feed or schedule appointments with live audio-video calls.
Image dimensions & orientation – within the Banner editor (Step 2), you can scale, resize, and crop uploaded images as well as change the background color. You can also use Microsoft Paint or free online resources like Canva, Adobe Express, etc. to modify your images to the correct orientation, size, number of pixels, etc.
Click here for the detailed 'Poster and Art Exhibition Booth instructions_web.pdf'
Need help?
vFairs has dedicated staff to help you. Please reach out to: Irfa Noor (i.noor@vfairs.com) or Shahroze Rizvi (sshahroze@vfairs.com)